This article and articles in the "Generating Content" section are intended for individuals looking to download presentations from existing templates in Matik. If you are a Matik administrator looking to create templates in Matik for your organization, see Quickstart to Building Content.
Step 0: Connect to Google Drive
If PowerPoint, proceed to Step 1.
Click on your profile icon in the upper right hand corner > User Profile > click on "Connect to Google." When you generate your first presentation, Matik will automatically create a folder in your Google Drive called "Matik Presentations." This folder will store all of the presentations you create with Matik.
Check out this video to learn more about connecting to Google:


Step 1: Select a Template
The first step in generating a presentation is to click on one of the templates you have access to. Watch the video below to learn more.


Step 2: Provide Inputs
Next, you need to provide Matik with some inputs to specify which data should be inserted into the presentation. When you first click into a template, some inputs may display "Syncing inputs". You do not need to wait for an input to finish syncing to select a value. If you experience missing values, wait for inputs to sync and try searching again.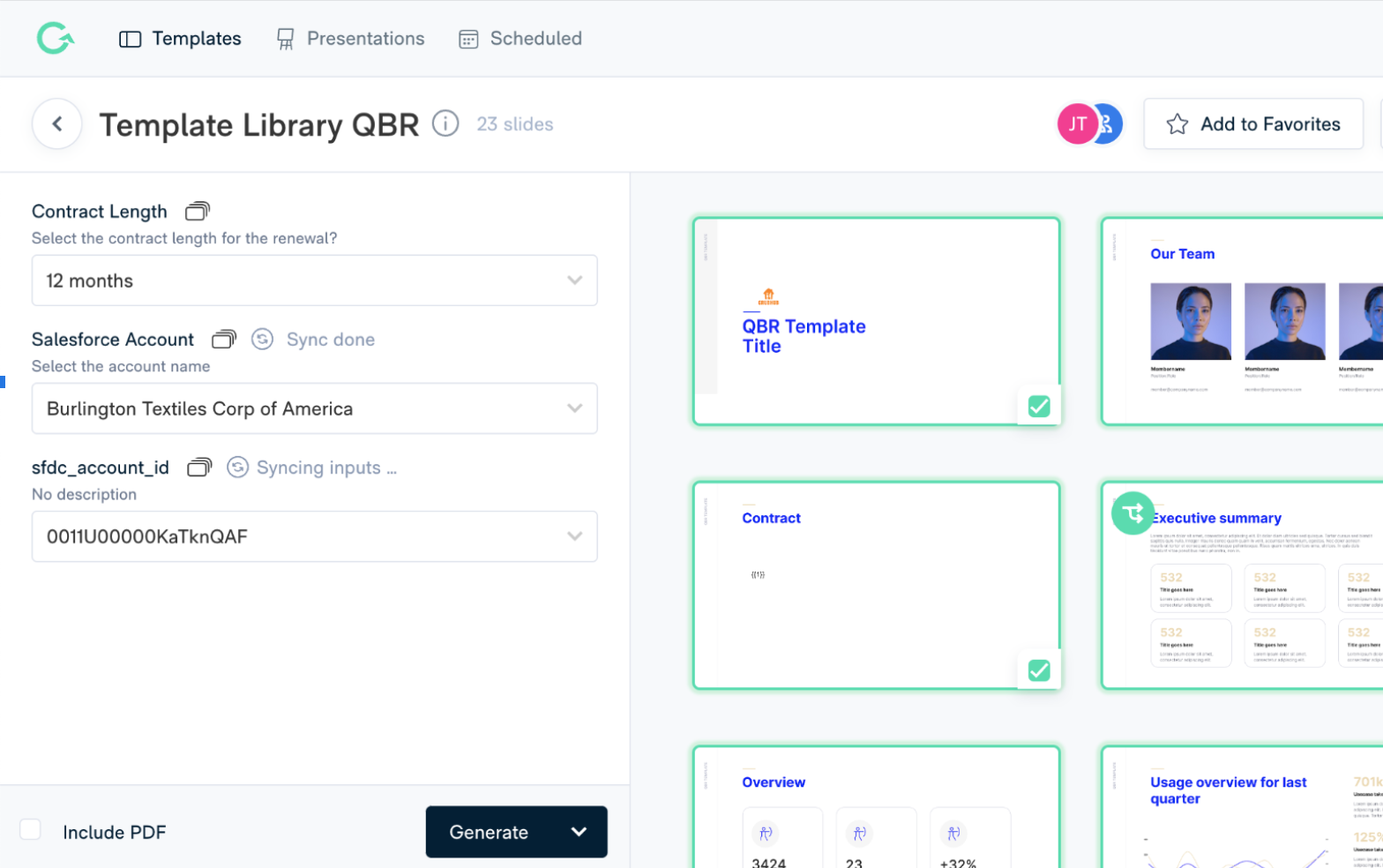 Once you provide your inputs, click "Generate Presentation" and wait for your presentation to be generated. Optionally, you can also add or remove slides from your presentation by deselecting existing slides or clicking between slides to add them in. Check out the video below to learn more about providing inputs and customizing your presentation.


Step 3: Open your presentations
Once Matik finishes putting together the presentation for you, there will be a preview available for you to review before opening it in Google Slides. Note: Once you are in Google Slides, all the content created by Matik is fully editable. Check out the video below to learn more.



Notes:
If you see "Error" on the slide, this means the dynamic content did not generate. Contact your admin team for assistance.
If you see "None" on the slide, this means the dynamic content ran successfully but there was no data based on the inputs you provided.
Presentations will take anywhere from 3-6 minutes to generate, and it times out after 10 minutes.
If you have any issues or feedback, please email support@matik.io
For more information on Matik or generating presentations and content in Matik, check out our Matik Overview help center article.