This article and articles in the "Generating Content" section are intended for individuals looking to download presentations from existing templates in Matik. If you are a Matik administrator looking to create content and configure Matik for your organization, see the Building Content section.
What is Matik?
Matik is a platform that allows users to create personalized data-driven presentations. The premise is simple:
Select a presentation template you want to download.

Input parameters to customize the presentation.

Click Generate.

Matik connects to your company's data sources, pulls valuable insights, and inserts them into your presentation.
Basic Matik Terms
| | |
| --- | --- |
| Term | Definition |
| Template | A Google Slides or PowerPoint presentation that has been uploaded to Matik and configured for Matik customization. |
| Presentation | A template that a user has customized and selected inputs for. |
| Dynamic Content | The specific objects in slides that are customizable in a template. Dynamic content can be text, a chart, a table, or an image within a slide. Dynamic content takes inputs when generating a presentation and reaches out to data sources connected to Matik to determine end values. |
| Inputs | The parameters that are entered when generating a presentation. |
| Administrator | The person in your organization responsible for creating templates and dynamic content and uploading them to Matik for you to download. |
Getting Started
Check out our Quickstart Guide to Generating Content for how to generate a presentation.
Matik UI Overview
At the top of the Matik website, you will see several options:

Templates: This is your library of slide templates that are available for your organization. This is a great place to get started if you are looking to download a new presentation.
Presentations: This is where you can see existing presentations you have downloaded from templates.
Flows: This is where you can view processing and completed bulk-generations and presentations scheduled to be generated in the future. Click here for more information on the Flows tab.
Templates
The Templates page displays all the templates your organization has created in Matik for you.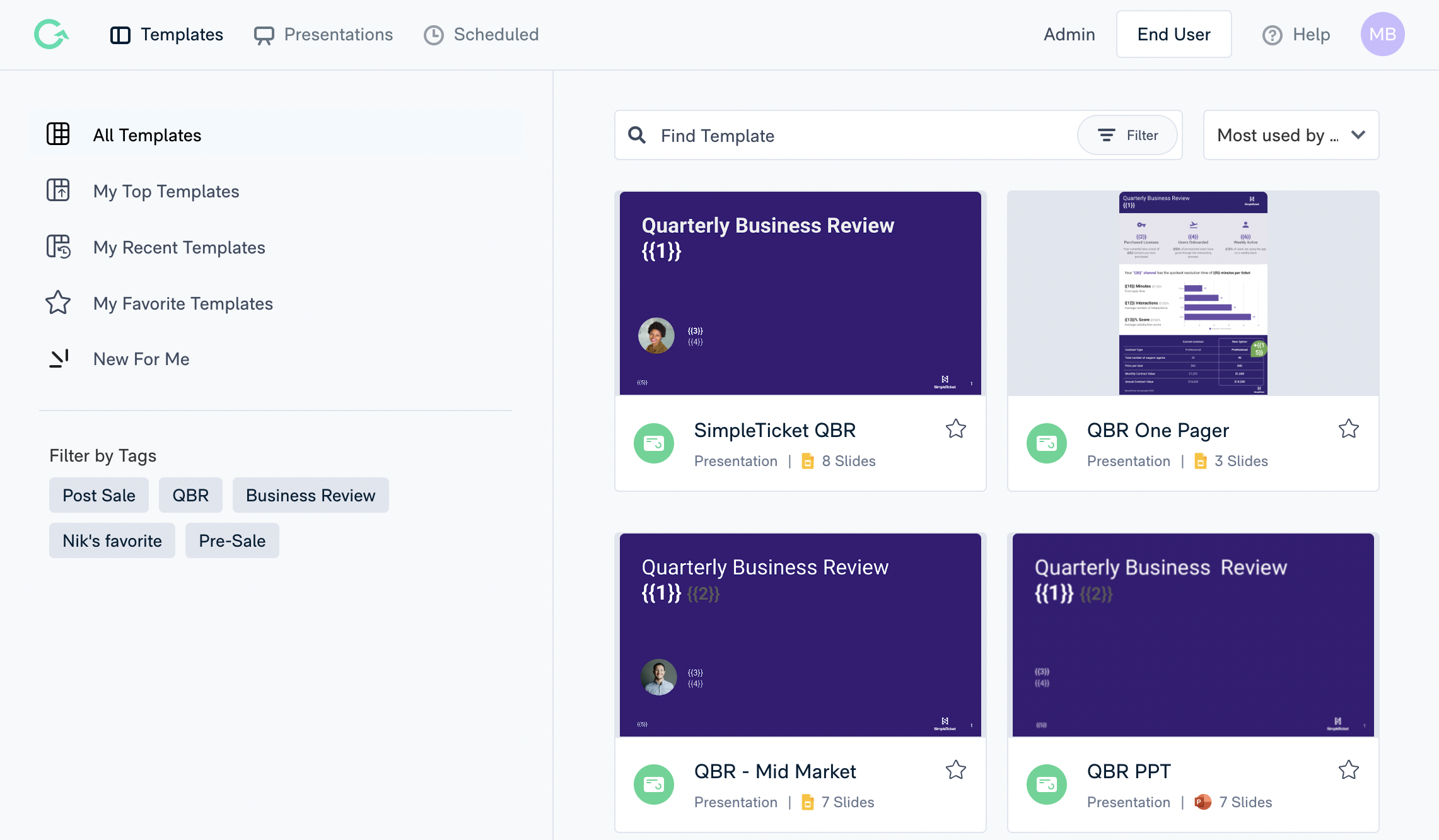 In addition to scrolling through the library and searching, you can also find templates through the navigation bar on the left by filtering by tags your organization can add to templates. You can also favorite templates by clicking on the star icon on a template for quick access. Click on a template to start the presentation generation process.
To generate a presentation, fill out the inputs on the left and click the "Generate Presentation" button. A detailed guide can be found in our Quickstart Guide to Generating Content.
Additional Template Options
When you click into a template, you will see several icons on the preview slides. On the inputs and in the preview slides, several icons may be present. Note that some of these features may be disabled by your administrator. Contact your administrator with questions.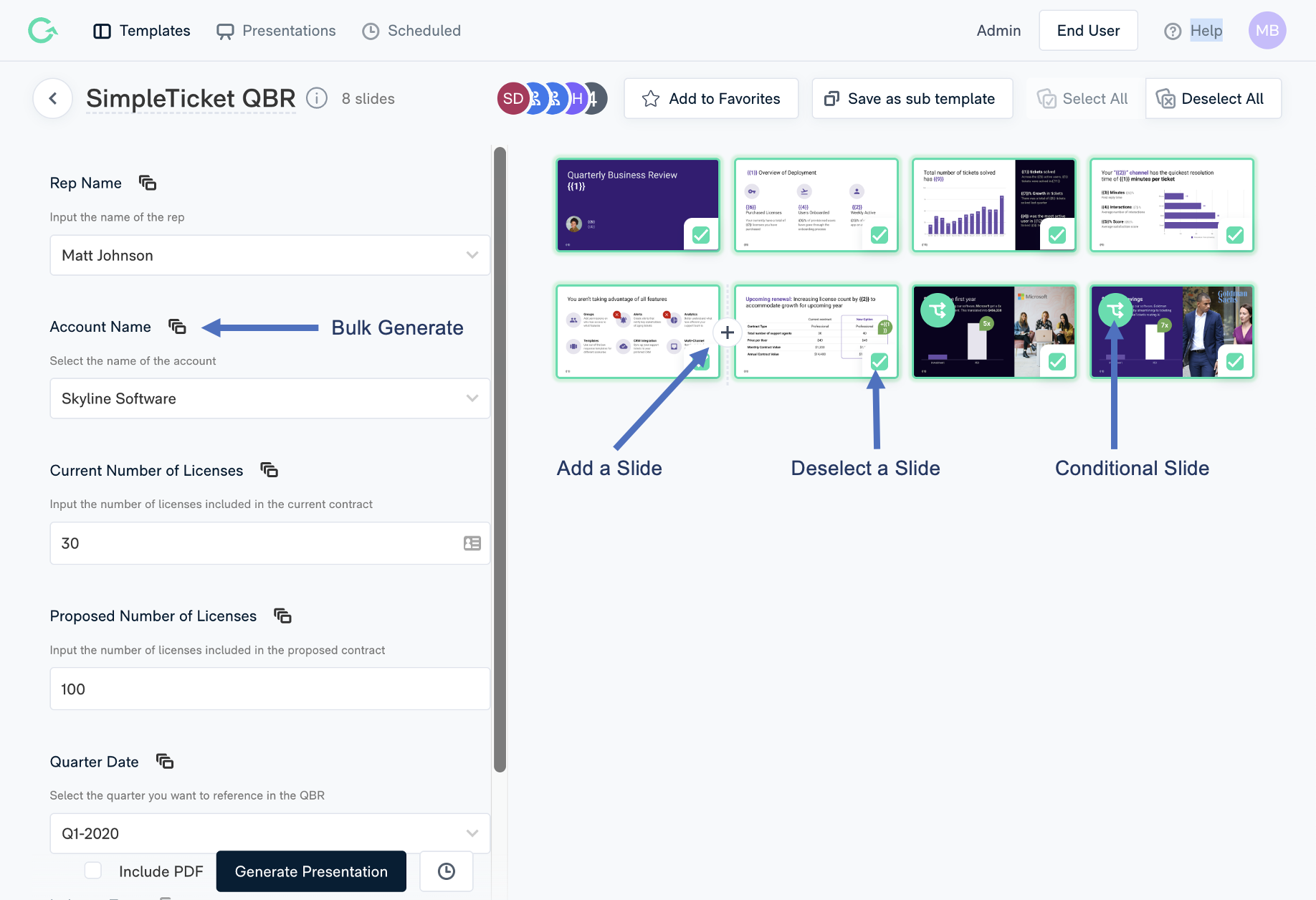 Bulk Generate: The Bulk Generate icon appears next to inputs which can be used to bulk generate presentations or create multiple presentations from a list of input values. Click here for more information on Bulk Generating Presentations.
Add a Slide:

Hover your pointer between two slides to add an additional slide to this presentation from another template.

Deselect Slide:

Removes a slide from a presentation.

Conditional Slide:

Slides with this icon will only be added to your presentation when certain conditions set by your administrator are met. In the example above, inputting "Technology" will result in the Technology Case Study slide being selected, whereas selecting "Finance" will result in the Finance Case Study slide being inserted. Reach out to your administrator with any questions on conditional slides.

Slide Looping:

Inputs with the Slide Looping icon will generate multiple slides when multiple inputs are entered. For each input entered, a slide will be generated specifically for that input. For example, in the screenshot below, both Q1-2020 and Q2-2020 have been inputted into Quarter Date. Slides 2, 3, and 4 above are generated with data from the quarter input and will be repeated for each of the quarters inputted for each quarter alone. The result is 6 slides; 3 with Q1-2020 inputs; and 3 with Q2-2020 inputs.

Save as Sub Template: Sub-templates allow end-users to save their own altered versions of templates for future use. See Sub-Templates for more information.

Presentations
The presentations tab displays all presentations generated with Matik.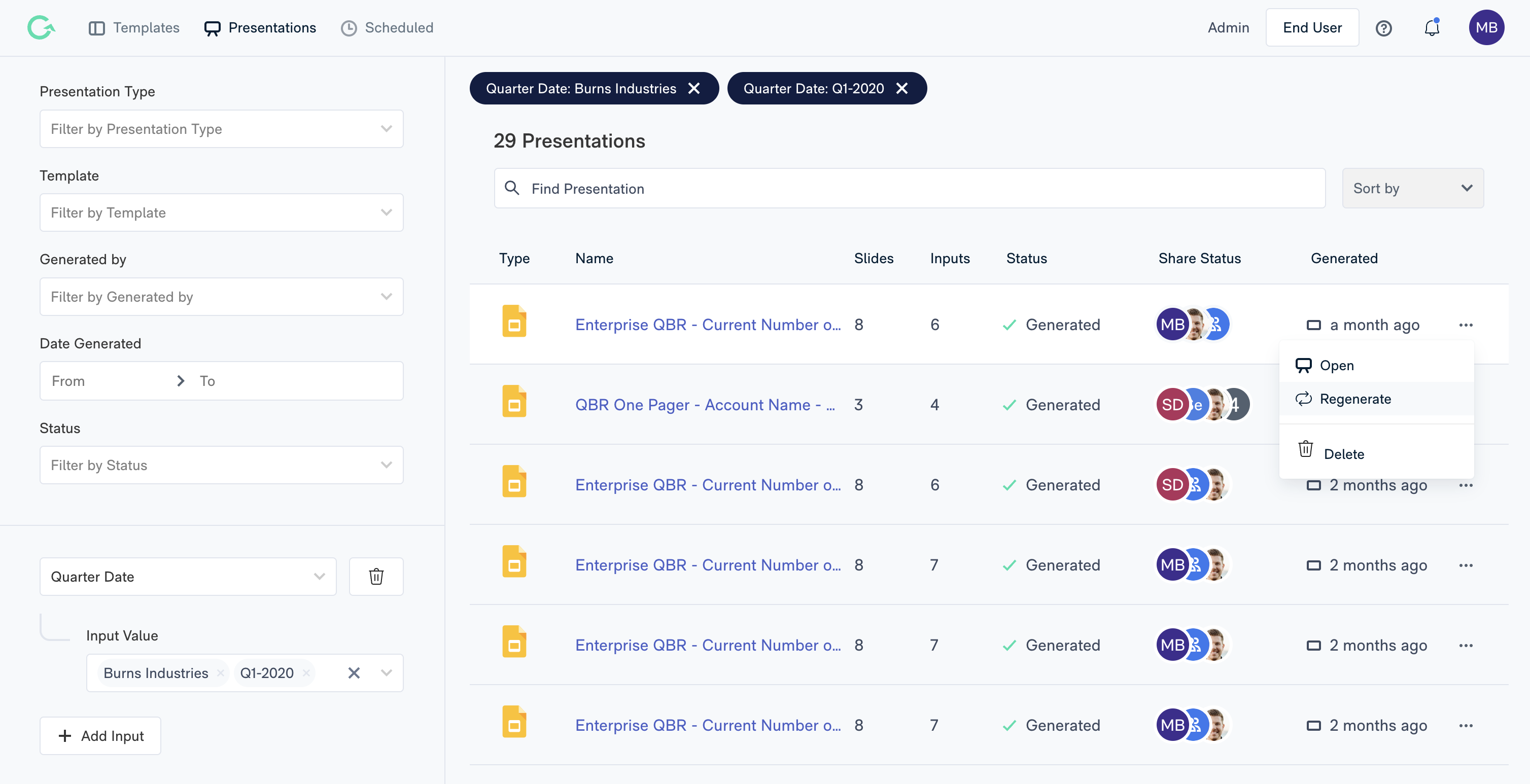 On the left of the screen, you can filter which presentations are displayed. You can also filter on inputs used to generate the presentation by clicking on "+ Add Input" and selecting an Input and a value.

The main screen area displays the list of presentations you have generated and presentations shared with you. Click on a presentation to view it. Clicking on the people icons in the "Share Status" column allows you to manage who can view or edit this presentation in Matik. Generated presentations are shared with "view" access to all of the template's editors by default. The 3 dot ellipsis menu gives you the option to Regenerate the presentation or Delete the presentation from Matik.
Additional Presentation Generation and Sharing Options
Matik also allows users to schedule presentations, bulk generate presentations from a list of parameters, create PDFs of presentations, and email out presentations. For more on how to do these things, see the following help articles: