The Matik Flows tab is an overview of all of your processing, scheduled, and manual email and presentation generation flows. Here, you can view the status and performance of each flow and manage each flow's settings.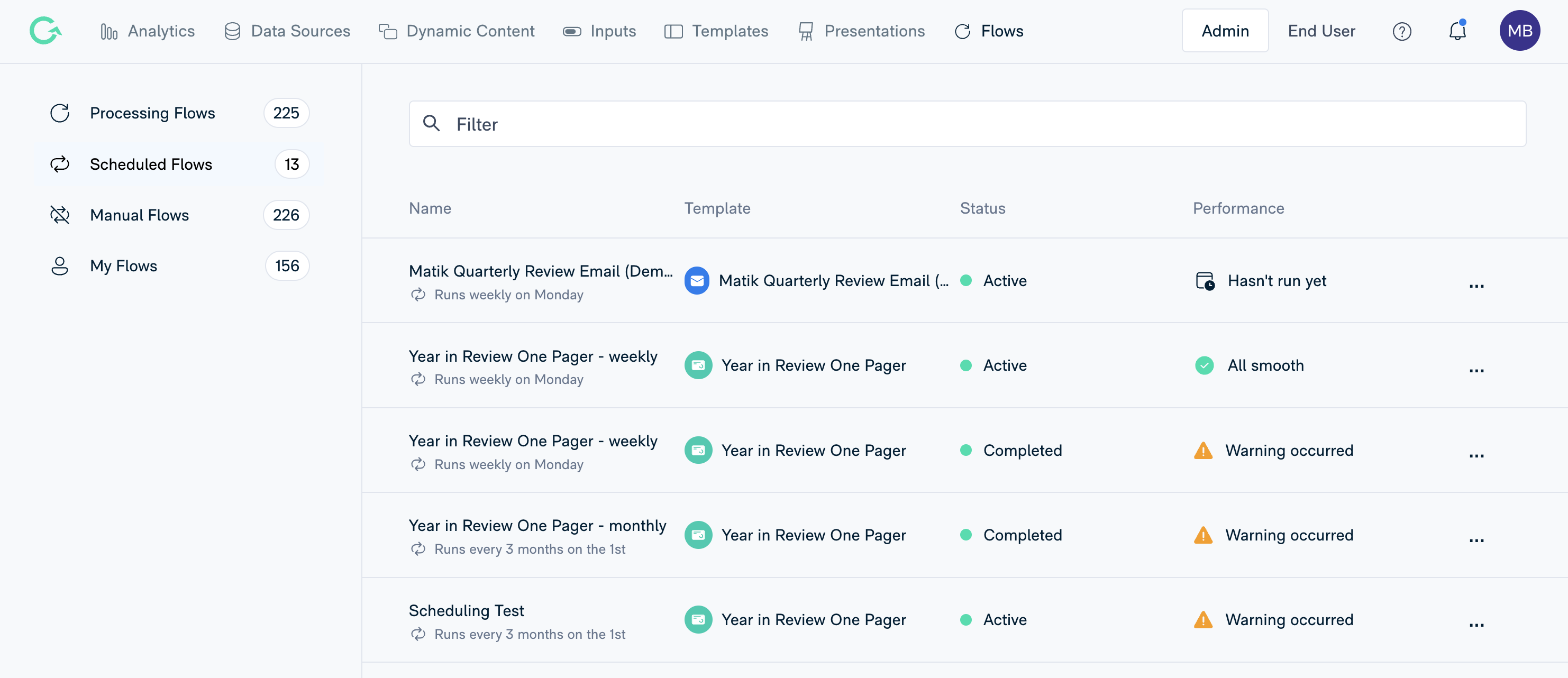 The Flows tab has 3 to 4 sections that can be reached through the left menu bar. Matik Admins can view Flows generated by all users from templates they have edit access to. End Users will only be able to see flows they have generated. The side includes the following sections:
Processing Flows - Contains all of Bulk Generation jobs, including scheduled jobs, that are currently running a job.
Scheduled Flows - Contains all of your scheduled Matik jobs.
Manual Flows - Contains all of your manually triggered flows (formerly bulk generations).
My Flows (Admin Only) - Contains all jobs in the other sections filtered to only jobs triggered by you.
Viewing your Flows Status
The flows view contains status and performance columns to give you an overview of your current flows. Statues provide information on where your flow is at, whereas performance indicates if there were any issues with a completed flow.
Statuses
For Scheduled Flows:
Queued - Active with effective start in the future
Processing - The latest Flow run is currently in progress
Active - The Flow is currently active and will run when next scheduled
Complete - The effective end date of the flow has passed
For Manual Flows:
Processing - A manual flow was triggered and is currently running
Done - Your email or bulk generation has been completed. Presentations are ready for viewing and emails have been sent.
Canceled - The flow has been canceled by a user and was not completed.
Performance
Warning Occurred - One or more emails or presentations experienced an an error or failure and wasn't sent
Hasn't Run Yet - The job has not yet reached its scheduled run time.
All Smooth - The job ran successfully with no issues
Viewing Flow Performance
High-level stats on your flow can be viewed on the right-side panel that appears when you click on a flow. Here, you can view the email analytics and progress of your flow. Email analytics data will typically lag a couple of minutes behind realtime.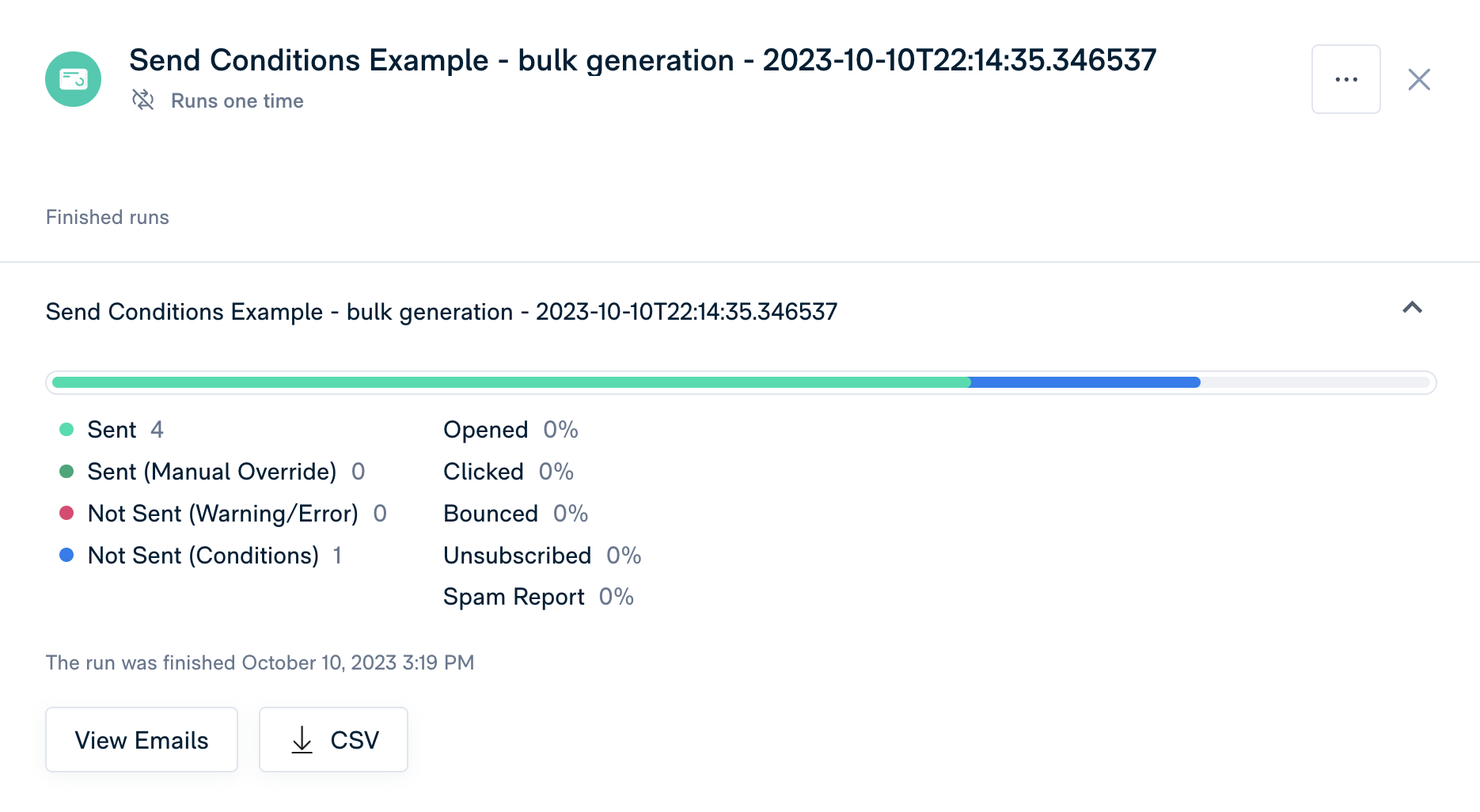 Click on "View Details" to see a view of the presentations tab filtered to the emails and presentations in this flow.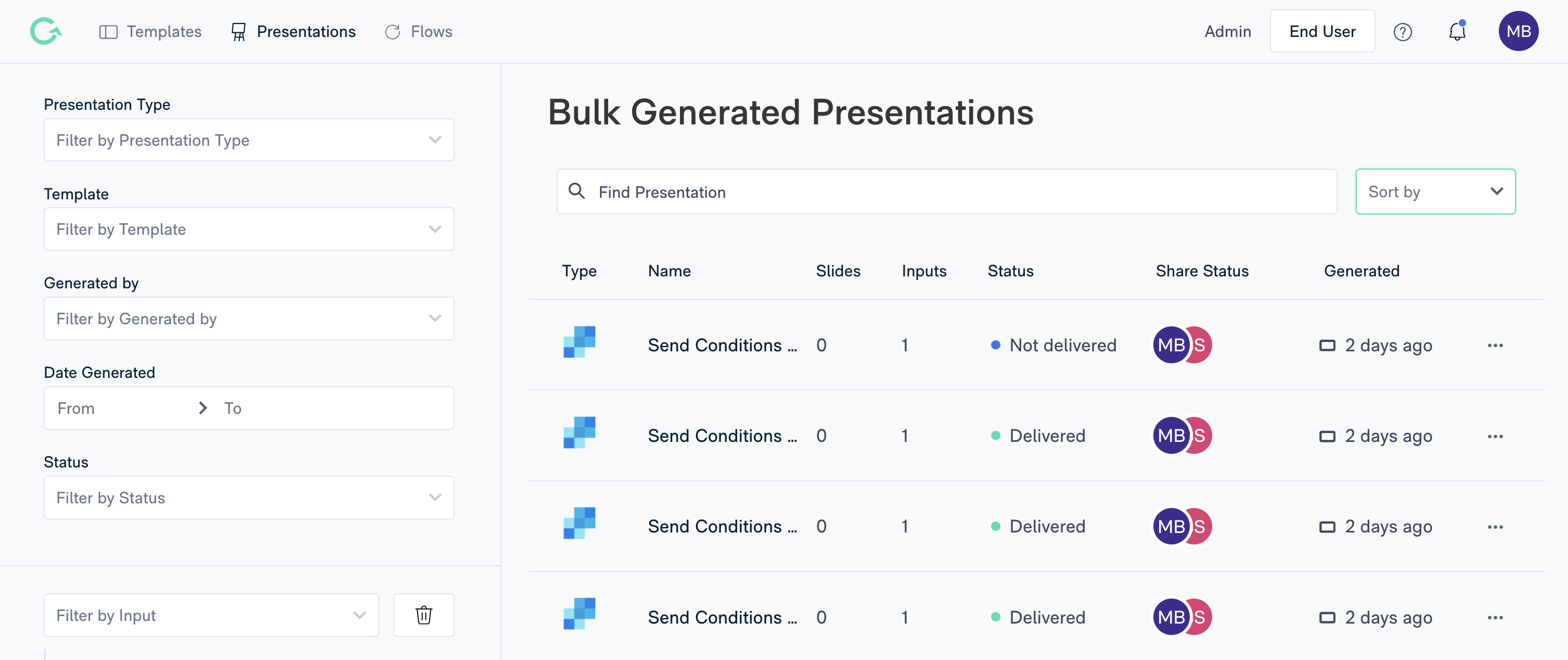 You can click into each individual email to preview the email send.
Click on "CSV" to download a summary CSV of your flow containing the recipient, send status and details, send date, send conditions status, and analytics such as spam reporting, unsubscribes, opens, and clicks.

Editing Flows
Canceling Runs
An actively running manual or scheduled flow can be canceled by clicking on the flow and clicking "Cancel Run" in the right flow menu.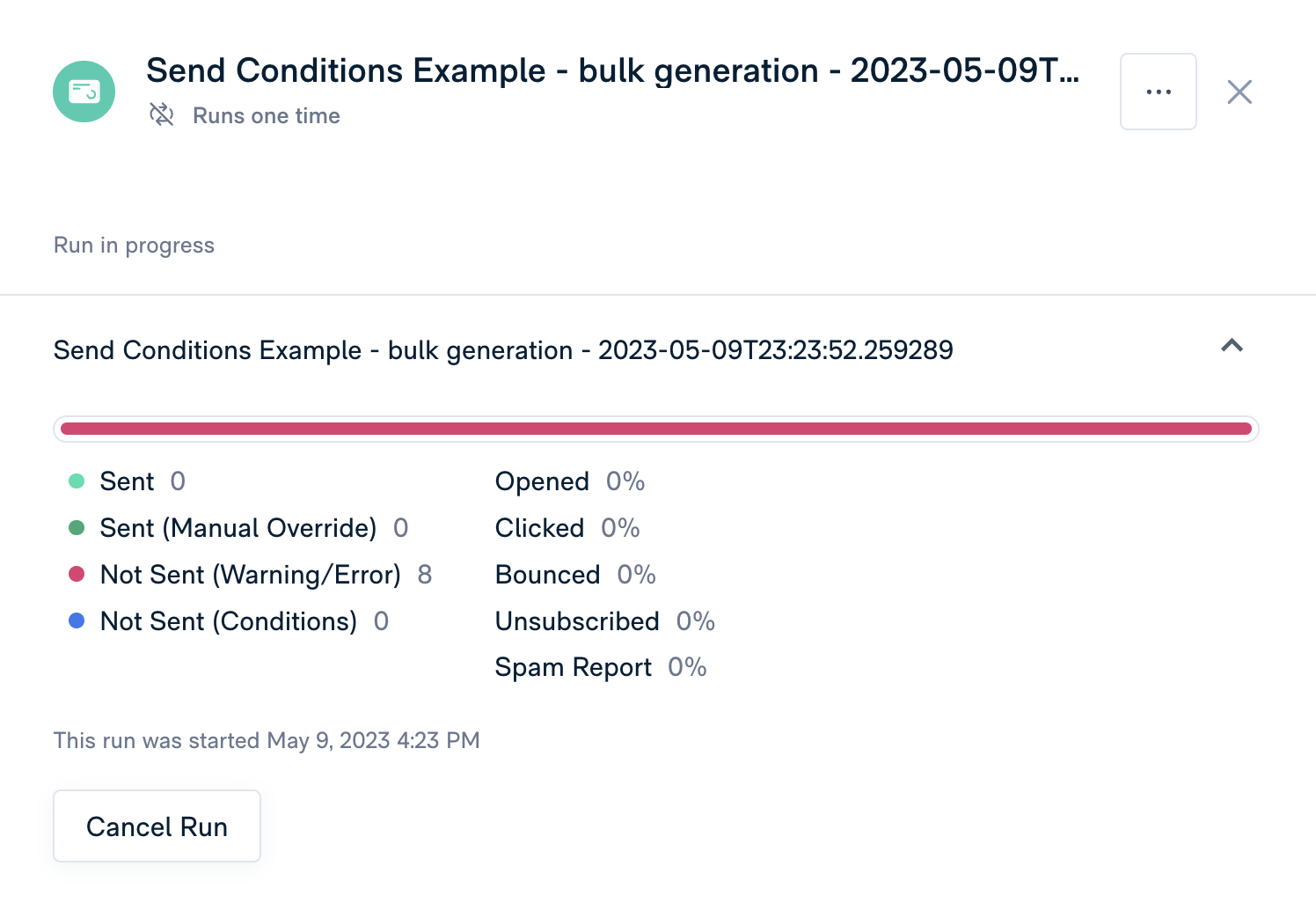 Canceling and Editing Scheduled Flows
A flow can be canceled or the schedule edited by clicking into the flow and clicking on the ellipses menu at the top of the right-hand flow menu.