Templates are the base presentations tagged with Dynamic Content and downloaded by users. Templates are created by uploading/connecting a Google Slides or PowerPoint presentation. To create or edit a template, go to the "Templates" tab in the navbar. Click on "+ New Template" and input a name and description for the template. Then, upload the PowerPoint file or connect to the Google Slide document. Check out the video below to learn more about uploading a template.
Once you click "Add template," Matik will scan the slides for any tags that you've already added and will match them with a piece of dynamic content (the name in alt text is matched to the name of dynamic content). To learn more about how to add tags, navigate to the section on Tags.
Click on the template you just added and the page below will appear.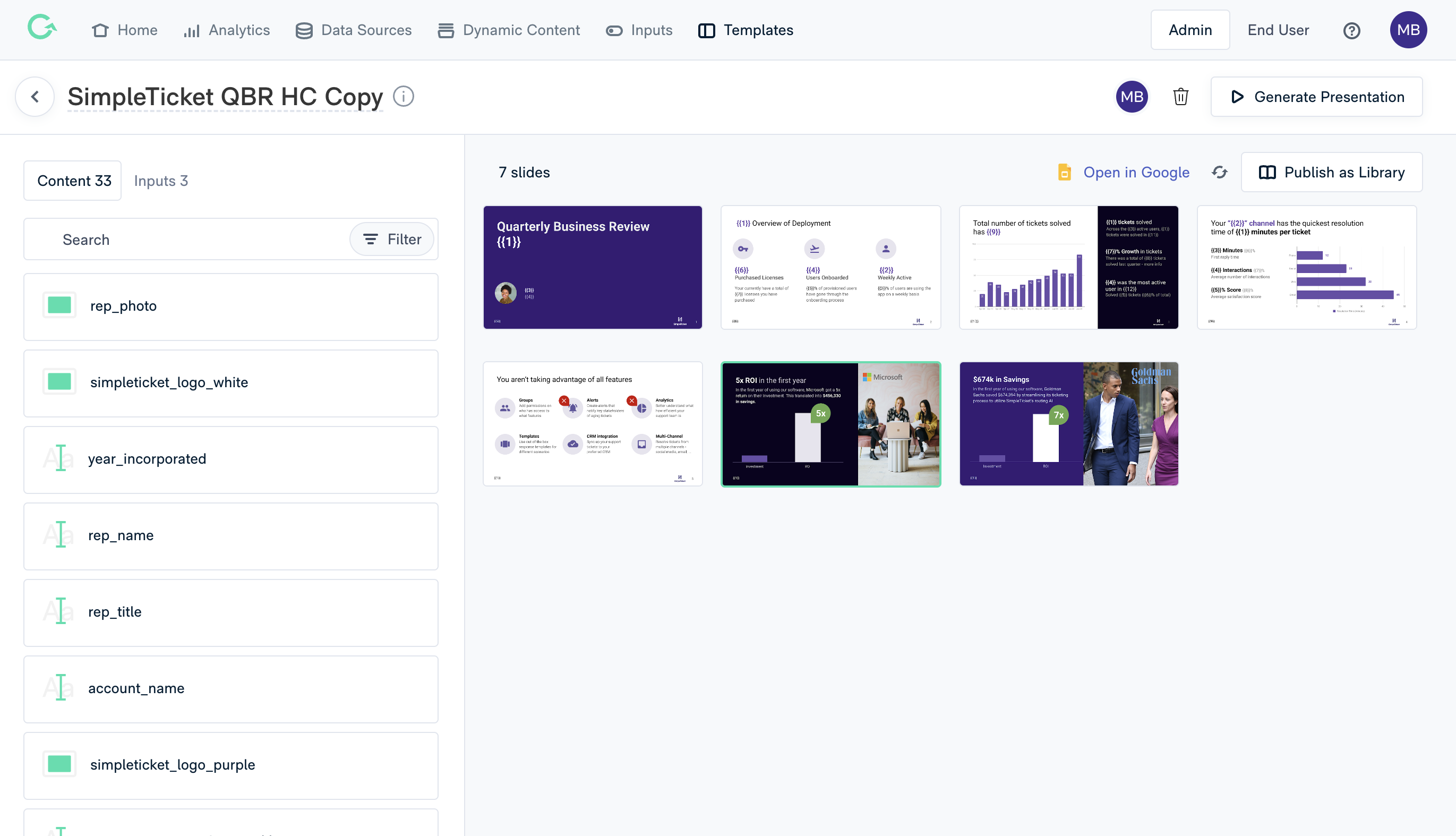 On this page, you will see all the dynamic content and associated Inputs incorporated in the slides. A banner will appear above the dynamic content and input table indicating whether any discrepancies need to be fixed. If Matik was not able to match a tag with a piece of dynamic content, there will be a red (!) icon on the slide and the dynamic content.

Reasons for the red (!) include:
Dynamic content not created: The dynamic content of the tag in the slide does not exist. Create dynamic content to match the tag.
Dynamic content typo: The name of the dynamic content in the alt-text of the slide's tag does not match the name of the dynamic content in the Matik platform.
When you click on the "Test Presentation" button, a form will appear with all the inputs associated with the template. Populate each input and click on "Apply Inputs." Check out the video below to learn more about prepping and testing your template.
Additional Template Features
See the support articles below for additional features of dynamic content.
Best Practices
We recommend having the design and narrative of the templates completed before uploading to Matik. Future dynamic content should contain mock data or placeholder text to be later replaced with tags. By having the template near complete before onboarding, minimal design changes will need to be done after tagging. The producers will also have a clear understanding of what data sources need to be connected and what dynamic content needs to be created.
We also recommend speaker notes, which can contain dynamic content, so the end users can easily understand how to best present each slide.
It's also important that users have read access to the template's location. If you're using Google Slides, we recommend following these steps:
Create a Matik Templates folder
Create Production and Staging sub-folders
Give all end users "View" access